Manchester's No.1 - Repairing and maintaining Garage Doors for over 30 years
Garage Door Repairs Manchester
Are you experiencing a problem with your garage door? Are you searching for a team of experts that can deliver effective garage door repairs? Manchester clients, look no further, as you've now found the professionals at The Garage Door Repair Company! We're proud to be the first-choice team for commercial and residential property owners who are interested in garage door repair services in the Manchester area.
If you'd like to learn more about our garage door repair services and find out how our experts can help, get in touch with us today! We'll be more than happy to go through our garage door services and provide you with useful information. You can depend on our staff to go above and beyond as they answer all of your questions in full and get you started with our services promptly. Below, you can learn more about our garage door repair options in Manchester.
The Most Reliable Garage Door Repairs in Manchester
Here at The Garage Door Repair Company, we're delighted to be the go-to team for comprehensive garage door repairs in Manchester. Our staff work closely with all clients to make sure that they receive suitable service for their garage door. We understand that every garage door is slightly different, which is why we deliver personalised service to every client. It's our aim to leave every Manchester property owner wholly satisfied with the garage door repair services that we deliver.
Every member of our team has been thoroughly trained in how to repair garage doors correctly. Thanks to our successes on past projects, we're confident in being able to fulfil the garage door repair needs of all clients. We pride ourselves on being able to tackle both domestic and commercial projects, helping home and business owners alike to restore their garage doors to the best possible condition. The knowledge of our staff allows us to take on a wide range of garage door repair projects in Manchester.
What is Our Garage Door Repair Process?
When you first reach out to us for a garage door repair, we will arrange a convenient date upon which to visit your site and have your garage door inspected. It might be that there is an issue with a specific component of your garage door, such as the motor. Similarly, structural damage might be preventing the door from functioning correctly. You can depend on our highly skilled staff to quickly identify the cause of the problem before coming up with an effective repair solution to get your door working again.
We work with speed and efficiency on all garage door repair projects to make sure that our clients experience minimal disruption. Our staff don't just repair garage doors; they put in place measures to prevent similar issues from occurring in the future. With our repair services, you can expect to significantly extend the lifespan of your garage door.
We carry out thorough testing after completing repair work to make sure that all the garage doors that we work on are functioning correctly once more.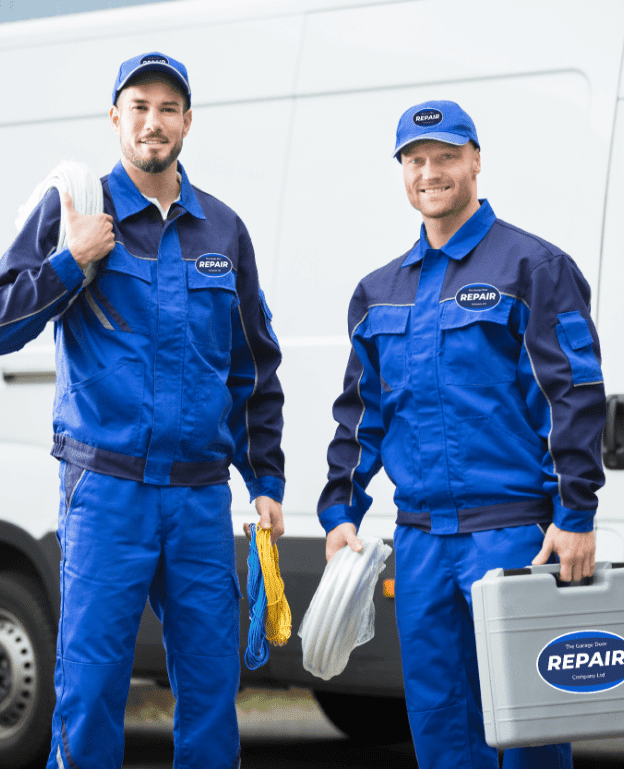 Our 30 Year Tried and Trusted Process

Contact Us 24/7
We are available at any time to deal with the garage door issues that you're experiencing.  

Quick Response
Our experts will be with you in no time to get started on a swift and effective repair. 

Issue, sorted
We will restore your garage door to optimal functionality, carrying out thorough checks. 

Problem, solved
Maximise the efficiency of your garage door as it continues to function without any problems! 
Why You Should Come To Us for Your Garage Door Repairs
In the time that we at The Garage Door Repair Company have been operating, we've built up an excellent reputation. Our staff have taken on many challenging projects in Manchester where they've been tasked with repairing garage doors. We have completed work of the highest standard for both residential and commercial property owners, all of whom have been left satisfied with our efforts. We're always searching for ways to improve our services for the benefit of our clients.
When you reach out to our team, you can rest easy knowing that we have access to state-of-the-art repair equipment. We realise that the world of garage doors is always changing, which is why we've continued to invest in the latest training and equipment for our staff. No matter what type of issue you are facing with your garage door, you can depend on our team to find a swift and effective solution. Keeping up with the times allows us to deliver the best possible repair solutions to Manchester clients.
We understand how important it is for Manchester property owners to know that they're dealing with a proven team that is recognised within the industry. After all, garage door services can be expensive, so you'll want to make sure that you get the best results for the money that you pay. We're proud to boast that we are accredited by several well-respected organisations, including the likes of CHAS, DHF, and Which? Trusted Traders. Such certification proves that we're a reliable garage door contractor.

Over
30 Years

of Experience


Over
250,000

jobs executed

Over
250,000 hours

on call
At The Garage Door Repair Company, it has always been our goal to cater to the needs of as many clients as possible. However, we realise that not every property owner will be in need of a simple garage door repair, as they may require more specific work to be completed. With this in mind, we've continued to expand and improve our selection of services so that we can tackle a range of issues with ease. Manchester property owners can reach out to us to take advantage of the following:
Lock Repairs
Motor Repairs
Cables & Cones Repairs
Automatic Garage Door Opener Services
Garage Door Replacements
And More!
With all of the services outlined above, our staff have the skill, training, and experience that are required to deliver excellent results. Thanks to the versatility of our team members, we can deliver the same high standard of work no matter what type of garage door component we're working on. If you're interested in our additional services and would like to learn more, don't hesitate to speak with one of our garage door experts in Manchester today!
So, would you like to get started with the number one team for garage door repairs? Manchester clients, don't hesitate to get in touch with us at The Garage Door Repair Company today! Our staff are always willing to discuss our garage door repair options at length, so be sure to reach out if you have any specific queries. We will answer all of your questions in full and make sure that you have a clear understanding of the garage door repair options that we have available.
If you'd like to speak with one of our garage door repair experts in Manchester directly, you can do so by calling us on 03330069750. Alternatively, fill out our online contact form or email your questions to [email protected]. We'll look over your queries thoroughly and get back to you as quickly as possible with the required information. Don't miss out on our exceptional garage door repair services today!
Rather than just taking our word for the quality of our services, why not read what some of our past clients have had to say? The reviews below will give you a clearer idea of what to expect from our experts.